Defense Department Evaluates Possible Oil Spill Response
By Donna Miles - American Forces Press Service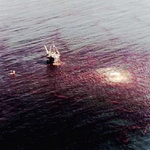 WASHINGTON, April 29, 2010 – A massive oil slick in the Gulf of Mexico that's headed toward U.S. shores is receiving "top-level attention" within the Defense Department as it evaluates what capabilities it may have to support the response mission, Pentagon Press Secretary Geoff Morrell said today.
Defense Secretary Robert M. Gates, Chairman of the Joint Chiefs of Staff Adm. Mike Mullen, U.S. Northern Command, the Joint Staff and the Navy are working in close collaboration with the White House and Department of Homeland Security to determine what assets are required, Morrell said.
"The secretary is prepared for us to help in any way," Morrell said as he reported "a full-blown effort within this department to try to find the kinds of things that could be helpful."
Morrell predicted that decisions could be made as soon as later today, particularly in light of President Barack Obama's announcement today that he had stepped up the federal response effort.
"I think it's clear that this is a … priority for the president and his administration," Morrell told reporters. "So we're going to work as quickly as possible to get him the answers he's looking for."
After the evaluation, the goal is to move as quickly as possible to provide the resources needed, Morrell said. In the meantime, planners at Northcom are planning for a variety of possible missions.
A defense coordinating officer and defense coordinating element from Northcom's Region Six are deploying to support the federal on-scene commander, and their counterparts in Region Four have been told to prepare to deploy, Jamie Graybeal, a Northcom spokesman, said.
Meanwhile, the Navy is providing salvage support as part of an existing agreement with the Coast Guard, Graybeal said.
Morrell emphasized, however, that industry has much of the technology and assets required to support such a mission. "So frankly, you want to work … hand in glove with industry here, because in some cases, they're going to have … better assets than we would," he said.

[ Original Article ]