Face of Defense: Trainer Becomes Trainee, Commander
By Army Capt. Marvin J. Baker - 120th Infantry Brigade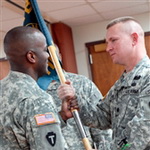 FORT HOOD, Texas, April 1, 2010 – After four years of preparing thousands of Army National Guard and Army Reserve soldiers for deployment at the Division West mobilization training center here, Army Capt. Brent Middleton soon will be preparing for his own deployment at the Joint Base Lewis-McChord, Wash., center.
Middleton, a member of the Texas National Guard's 36th Infantry Division who joined the 120th Infantry Brigade though the 1st Army Operation Warrior Trainer program, accepted command of the headquarters company of the division's special troops battalion in a March 20 ceremony at Camp Mabry.
"This will be my second deployment to Iraq in five years," Middleton said. "I've worked to coordinate the training and resources for soldiers training under the 120th Infantry Brigade for the past two years. Now, in my new job after deployment, I will be responsible for the Joint Visitors Bureau, the battalion staff and the base defense operations center."
Middleton's experiences as the battle captain for the 120th Infantry Brigade's mobilization operations center here will make his post-mobilization training at Joint Base Lewis-McChord successful, he said.
"I will be able to better prepare my unit during the pre-mobilization [training] at home station so that we are ready for the rigors of post-mobilization training," he said.
[ Original Article ]